Ottawa 30 second Real estate market update
PRICES:
Year over year prices have increased over October 2020
+19% for single family homes
+10% for condos
+18% for Row homes
+18% for Semi-detached
SUPPLY:
1960 New Listings which is slightly less than 5 year average of 1974
DEMAND:
1677 residential properties sold in October which is only 70 more than September 2021
The 5 year average for the number of sales in October is 1605
What it means
The total absorption rate – the # of homes that sell out of what is available has increase slightly over September
42% in October vs. 37% in September 2021
With September being an election month and back to school, this indicates the normal trend we see at this time of year.
If everything on the market were to sell immediately, we would only have 2.3 months of inventory.
This is slightly less than what we saw over the summer months, however more than we saw in first half of this year.
*Remember 4-6 months is considered a balanced market.  6+ months of inventory is a buyers market.
2021 Months of inventory to be sold out:
2.1 January
1.8 February
1.6 March
1.8 April
2.0 May
2.3 June
2.6 July
2.9 August
2.6 September
2.3 October
What to expect in this month?
The Ottawa real estate market is still trending on the side of  sellers however we are seeing the return of conditional offers even when in a multiple offer situation.  This is good news for buyers.
Sellers need to be priced right, prepped and staged.  Don't worry, I will walk you though it and have the proven process in place for you 😉
Traditionally the first halve of November tends to be similar to October.  We will start seeing less new properties and less sales towards the holiday season.
Mortgage specialist are telling me that fixed rates seem to be on the rise, which means buyers who are already pre-approved are serious and ready to buy now.
It's never too early to start planing.
With the interest rates going up, it's a good time for buyers who are thinking of buying in the spring market to start getting their pre-approvals organized.
If you are thinking of selling in the next 3-6 months, reach out and we will review the market in your specific neighbourhood and create the strategic based on when you want to sell to maximize your time, energy and profit.
I'm here to help!   
Laura Seanor
RE/MAX Real Estate 🏡
---
OTTAWA, November 3, 2021 – Members of the Ottawa Real Estate Board sold 1,677 residential properties in October through the Board's Multiple Listing Service® System, compared with 2,132 in October 2020, a decrease of 21 per cent. October's sales included 1,263 in the residential-property class, down 24 per cent from a year ago, and 414 in the condominium-property category, a decrease of 14 per cent from October 2020. The five-year average for total unit sales in October is 1,605.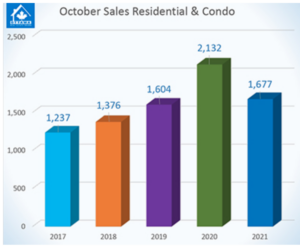 "October's resale market was active, busy, and stable – and followed the typical (pre-pandemic) ebb and flow that we commonly see as we enter the fall season," states Ottawa Real Estate Board President Debra Wright. "The number of transactions increased slightly over September (1,607) as well as the 5-year average. The only reason we see a year-over-year decrease in comparison to last October is because 2020's sales peak had shifted from the spring months to September/ October due to the initial Covid-19 lockdown."
The average sale price for a condominium-class property in October was $404,760, an increase of 10 per cent from 2020, while the average sale price for a residential-class property was $716,378, an increase of 19 per cent from a year ago. With year-to-date average sale prices at $720,150 for residential and $419,515 for condominiums, these values represent a 24 per cent and 16 percent increase over 2020, respectively.*
"While the number of units sold followed the traditional trajectory, the lack of supply continues to put upward pressure on prices, which are holding strong and steadily increasing. Although there were 1,960 new listings in October, falling just under the 5-year average (1,974), it's simply not enough. Inventory remains at a one-month supply for residential properties and 1.2 months for condominiums. The only way we will find balance in Ottawa's market is to increase the housing stock exponentially."
"Low inventory and a lack of suitable housing options restrict movement along the housing spectrum. Move-up buyers and downsizers have nowhere to go, so they stay in place, but we need that exchange of properties in the marketplace to free up supply for entry-level homebuyers," Wright adds.
"Additionally, we have noticed a substantial increase in the number of rental transactions through the MLS® System, which could suggest that some of the properties have been purchased or held on to for investment purposes. This active rental market may be another contributing factor as to why there aren't more properties coming onto the market for sale."
OREB Members assisted clients with renting 4,012 properties since the beginning of the year compared to 2,829 at this time last year.
* OREB cautions that the average sale price can be useful in establishing trends over time but should not be used as an indicator that specific properties have increased or decreased in value. The calculation of the average sale price is based on the total dollar volume of all properties sold. Price will vary from neighbourhood to neighbourhood.