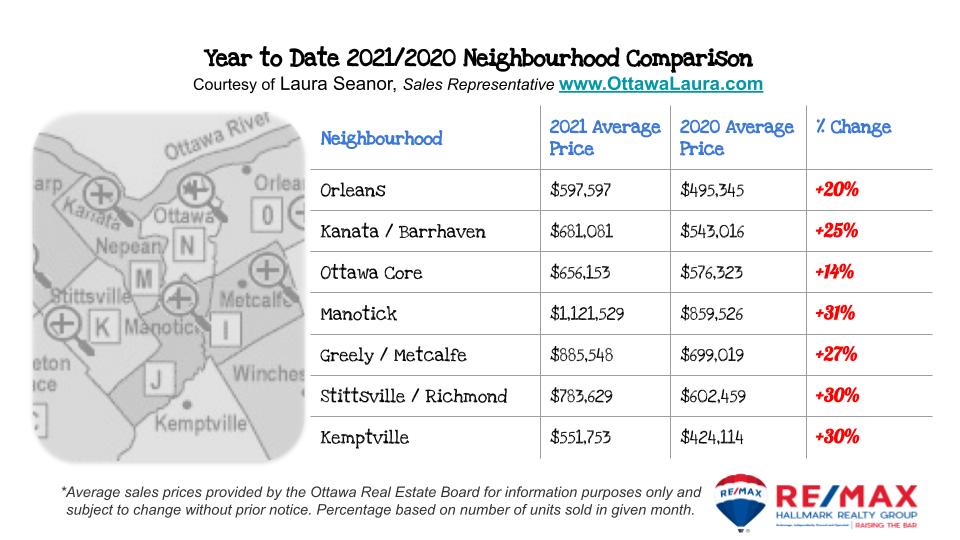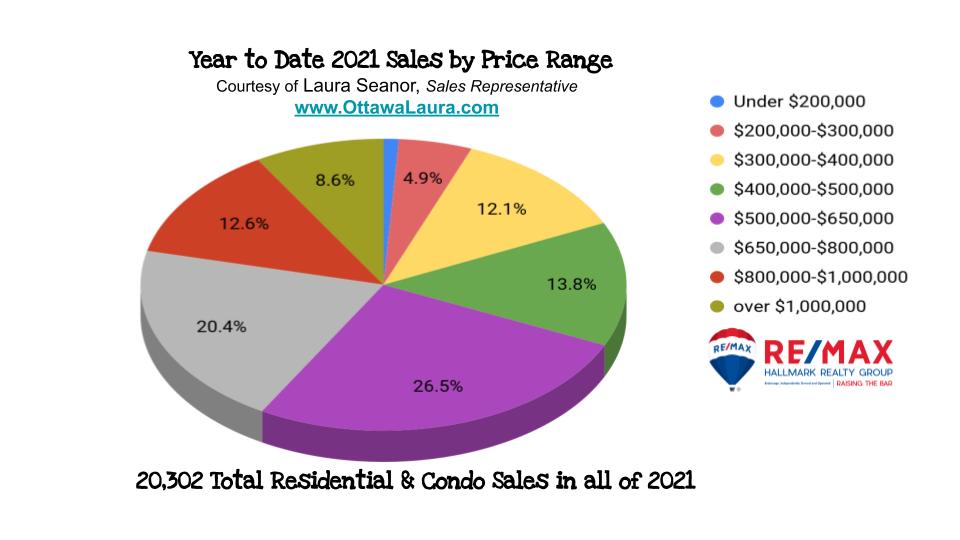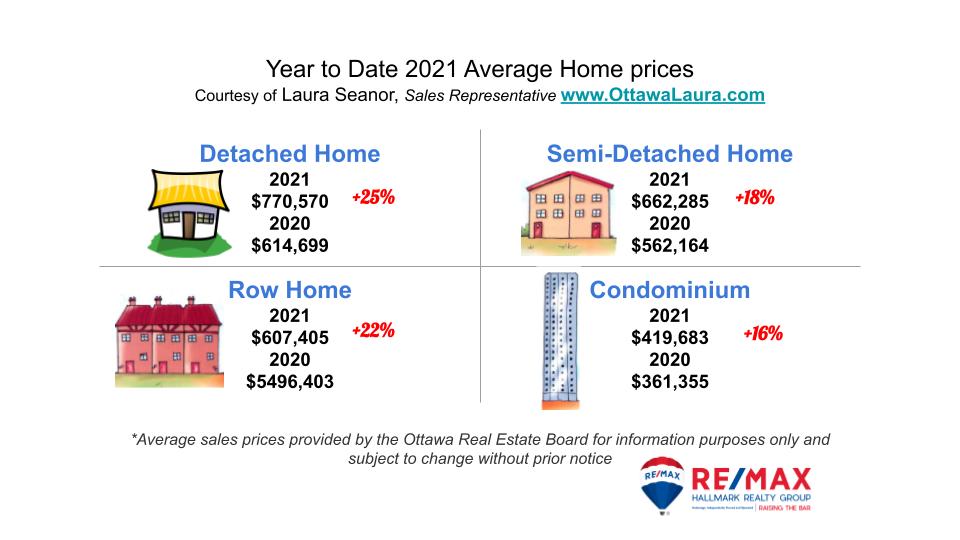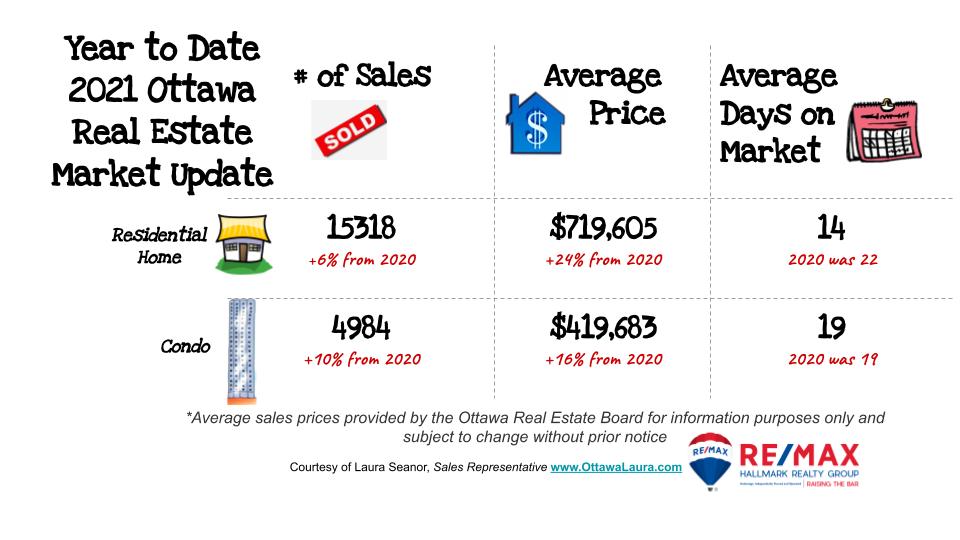 Ottawa 30 second Real estate market update
PRICES:
Prices have continued to increase
Overall in 2021 residential homes have increased 24% and condos have increased 16%
December 2021 saw the following increases over December 2020
+25% for single family homes
+16% for condos
+22% for Row homes
+18% for Semi-detached
SUPPLY:
600 New Listings
Compared to 745 December 2020
DEMAND:
862 residential properties sold this past December
5 year average is 809
What it means
While we saw a slight break in the market over the summer months.  The demand continues to exceed the amount of properties that are available to purchase.
Which community had the biggest price increase over the past year?
WESTPORT! Cottage country had the largest price increase of 2021 at 40%!
Carp 34%
Almonte 33%
Winchestor 32%
Manotick 31%
Casselman 31%
Kemptville 30%
Richmond / Stissville 30%
Carleton Place 26 %
Arnprior 25%
Kanata / Barrhaven 25%
Alexandria 22 %
Orleans 21%
Metcalfe 27%
In terms of affordability the downtown core had the smallest price increase over the 2021 year. This could be due to remote working, the desire for more space, larger yards or that the core has always been in demand.
What to expect in this month?
The number of sales in January is usually slightly above or close to the number of sales in December
The number of new properties that are listed will start to increase each month as we look forward to the Spring market.
Big banks and mortgage brokers are still indicating that the interests will continue to climb throughout the 2022 year.
If you are thinking about selling, it's a good time for us to start your preparations and put together a rock solid marketing plan.
If you are thinking about buying, have your mortgage approval in hand and get ready for right house to become available.   With many buyers focused on virtual learning over the next month, it will most likely be the ideal time to find your home with the least amount of competition.
Whether you are buying, selling or both I've got the strategies and plans for you…all you have to do is reach out 😉
I'm here to help!   
Laura Seanor
RE/MAX Real Estate 🏡
________________
Ottawa 30 second Real estate market update
Do you have questions about what it takes to successfully sell or buy in Ottawa, Canada? DM me or text/call 613-290-0407
Q2 June 30th 2021 Ontario Market update
Steve Tabrizi our Chief Operating Officer/Broker/Owner at Re/Max Hallmark Realty Ltd., Brokerage gave another update on the Ontario Real estate market.
While I welcome you to watch the full video, it is over an hour long.
The Ottawa update is around the 20:40 mark
Is the market cooling off starts around the 42:50 mark
April 2021 – Is the market going to crash?
2021 Canadian Economic Outlook
RE/MAX Hallmark real estate agents had the privilege to hear from Benjamin Tal on Tuesday Jan 19th 2021.
He spoke about the Canadian economy and how factors such as COVID and the US has impacted our real estate market and made some predictions to where he believes we will be heading this year.
It's long (about 1/2 Hour) but I thought it was really informative and wanted to share.
CIBC profile of Benjamin Tal:
Mr. Tal is responsible for analyzing economic developments and their implications for North American fixed income, equity, foreign exchange and commodities markets. He also acts in an advisory capacity to bank officers on issues related to wealth management, household/corporate credit and risk.
Well-known for his ground-breaking published research on topics such as labour market dynamics, real estate, credit markets, international trade and business economic conditions, Mr. Tal not only contributes to the conversation but also frequently sets the agenda.
He has close to 20 years of experience in the private sector advising clients, industry leaders, corporate boards, trade associations and governments on economic and financial issues.
National and global media regularly seek him out for his insight and analysis on economic issues that impact financial markets, consumers, corporations and public policy. He is also a frequent lecturer in the economic programs of various Canadian universities.
Mr. Tal is a member of the Economic Committee of The Canadian Chamber of Commerce, The Economic Development Committee of the Toronto Board of Trade. He is also a member of board of Governors of Junior Achievement of Central Ontario, and a board member of the Toronto Financial Services Alliance.
https://www.cibc.com/en/about-cibc/media-centre/spokespeople/benjamin-tal.html