Ottawa 30 second Real estate market update
Price
+14% for single family homes
+18% for condos
+17% for Row homes
+8% for Semi-detached
Supply
1143 – January 2022
1171 – January 2021
While the amount of new listings is on par with last year is is about 100 properties less than the 5 year average.
Demand
936 residential properties sold
5 year average is 840
What this means:
We see that the demand is still quite a bit higher than the amount of inventory that we have available
Absorption rate
This is the rate on how quickly a property will sell
The numbers for January are 48% absorption
Days / Months of inventory:
This is how many days/months of inventory we have until the Ottawa Market is completely sold out assuming no new inventory become available
0.88 months or approx. 24 days in January 2022
0.98 months or approx. 29.5 days in January 2021
2.14 months in January 2020
3.5 months in January 2019
5.27 months in January 2018
It's a SELLERS MARKET
* 4-6 months of inventory is a balanced market
Buyers Market is 6+ months of inventory
My prediction for this month?
In February the will inventory increase over January however I expect those new listings will be absorbed very quickly as the number sales will also increase this month.
The interest rates did not go up in January as predicted. but they are still expected to increase this year.
That means that the competition will continue to increase for both buyers and sellers.
Sellers should want to be ahead of the spring rush. We want to sit down now and together create your rock solid marketing plan. It's a Sellers market but don't let that fool you into thinking that anything will sell. The right plan will make the process smoother, easier and give you those exceptional results.
As a buyer, don't let the market scare you. If you want to make a move, I am here to make it happen for you. We need to be organized, work with a great mortgage specialist, know your numbers & be prepared to act fast when the right house becomes available.
I am here to put together your winning strategy, tailored to you individual goals.
All you have to do is call! 613-290-0407
---
Mem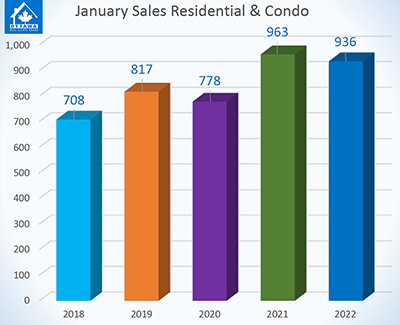 bers of the Ottawa Real Estate Board sold 936 residential properties in January through the Board's Multiple Listing Service® System, compared with 963 in January 2021, a decrease of 3 per cent. January's sales included 661 in the residential-property class, down 2 per cent from a year ago, and 275 in the condominium-property category, a decrease of 5 per cent from January 2021. The five-year average for total unit sales in January is 840.
"January's sales, almost identical to 2021's, were very strong for a traditionally slower month, especially given the frigid temperatures and increased government Covid-19 restrictions we experienced," states Ottawa Real Estate Board President Penny Torontow. "This increased activity compared to previous years is not solely a pandemic phenomenon. Yes, the pandemic has accelerated market activity in some ways, but pent-up Buyer demand due to the housing supply shortage has been an ongoing fundamental issue for the Ottawa resale market for well over 5 years now – and the price increases will continue to reflect that until the housing stock grows."
The average sale price for a condominium-class property in January was $447,943, an increase of 18 per cent from 2021, while the average sale price for a residential-class property was $771,739, increasing 14 per cent from a year ago.*
"Average prices continue to rise steadily with the lack of inventory pushing prices to levels previously unseen. We only need to observe the number of homes now selling over $1M for a clear demonstration. In 2020, they represented 3% of residential sales, in 2021, they held 9% of the market's resales, and now in 2022, that number reflects close to 14% of detached home sales."
"Meanwhile, the residential-class properties selling within the $650-$900K range represent 47% of all of January's residential unit sales. In 2021, it was 33%. But we must keep in mind, average prices statistics amalgamate data from the entire city, so while in some areas the increases would be less, other pockets of Ottawa may see more," advises Torontow.
"The condo market is also flourishing both in number of sales and prices. Possibly due to the fact that residential units may be out of reach for some Buyers, they are finding themselves more open to this option and are actually able to find a condominium-class property within their budget."
"Bad weather, pandemic lockdowns, it doesn't matter – Ottawa remains a fast-moving, active, and robust market. So, if you are thinking of selling your property, there has never been a better time. Contact a REALTOR® who can explain the various factors that will help you get the best price for your home today."
In addition to residential sales, OREB Members assisted clients with renting 410 properties in January 2022 compared to 333 in 2021.
* OREB cautions that the average sale price can be useful in establishing trends over time but should not be used as an indicator that specific properties have increased or decreased in value. The calculation of the average sale price is based on the total dollar volume of all properties sold. Price will vary from neighbourhood to neighbourhood.